Customs officials in Malaysia seized more than 5,000 turtles from two travelers at the Kuala Lumpur Airport.
Agents found 5,255 baby red-eared slider turtles inside small baskets in the luggage of two Indian men who arrived from Guangzhou, China, on June 20. The pair, age 30 and 42, had no permits for the terrapins, according to senior customs official Zulkurnain Mohamed Yusof.
They told officials their bounty was meant to be sold as pets in India.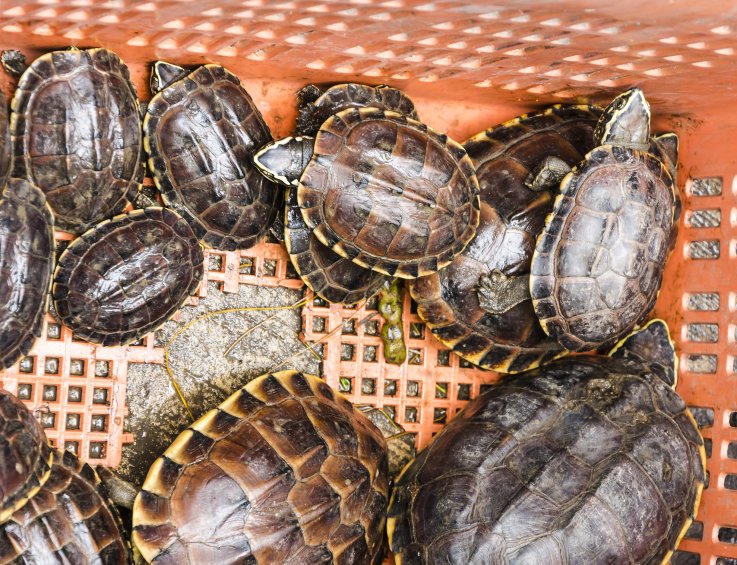 Red-eared sliders are the world's most commonly traded reptile, due to their small size and ease of care. (The popularity of the Teenage Mutant Ninja Turtles, revealed to be evolved red-eared sliders, led to craze for them in the U.K. in the 1990s.) But young turtles can be carriers for salmonella—outbreaks caused by salmonella-infected turtles have been reported in multiple U.S. states, including fatalities.
Red-eared sliders are also one of the most invasive species on the planet: "They're omnivores," said Allison Begley of the Montana Department of Fish, Wildlife and Parks. "They eat anything, and they adapt to any habitat."
In Australia, they're considered a threat to the native turtle population, as they mature faster, grow larger and are more aggressive. (The Queensland government has invested close to $700,000 in eradication programs.)
The collection of turtles confiscated at the airport is estimated to be worth more than $12,600. The men face a fine and up to five years in jail.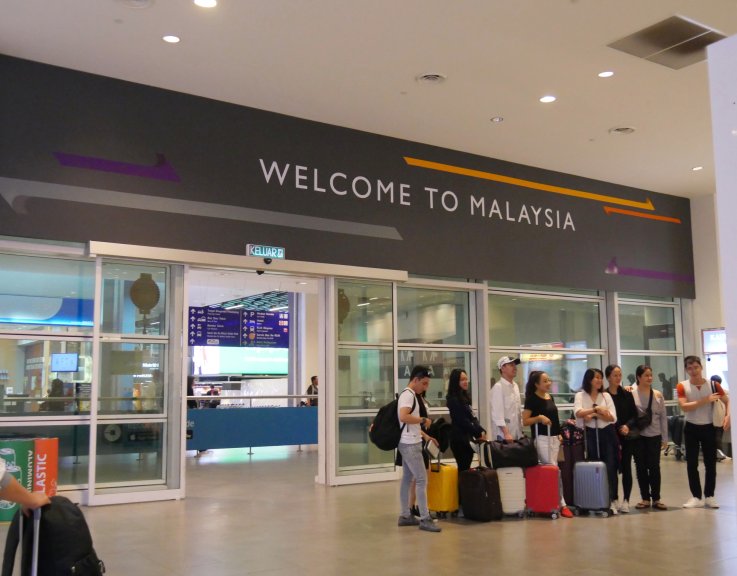 In a separate bust, customs officials also found 31.6 pounds of methamphetamine hidden in special compartments in boxes carried by two men.
One of the suspects flew in from Hyderabad on June 19, said Zulkarnain, the other arrived the following day from Bengaluru. The haul is believed to be worth 717,000 ringgit ($172,500).
Malaysia's Dangerous Drugs Act is one of the harshest in the world: If convicted, the suspects, both 30, face the death penalty.
There has been an effort to end mandatory capital punishment for drug offenses in Malaysia, including an ongoing court case challenging the constitutionality of the punishment. In October 2018, the country's Cabinet approved a measure ending the death penalty in Malaysia. It's still be considered by parliament but, if approved, nearly 1,300 inmates on death row would likely see their sentences replaced with a minimum prison sentence of 30 years.
"The applicant had argued that they have equal rights and protection under the law and that his death penalty sentence should not be the same as those imposed for murder," he said.
Liew said the removal of the mandatory death sentence for murder was still in progress.
"I hope to get it tabled sometime in July (Parliament session).
"I'm waiting for the paper to be returned to me from the Attorney-General's Chambers, perhaps in the next couple of days," Liew said at the Talking Drugs, Death Penalty and Human Rights Forum, held at the Universiti Malaya (UM) Alumni House, here, today.
There are 17 other criminal offenses that warrant death in Malaysia, including murder, rape of minors and possessing and using firearms.