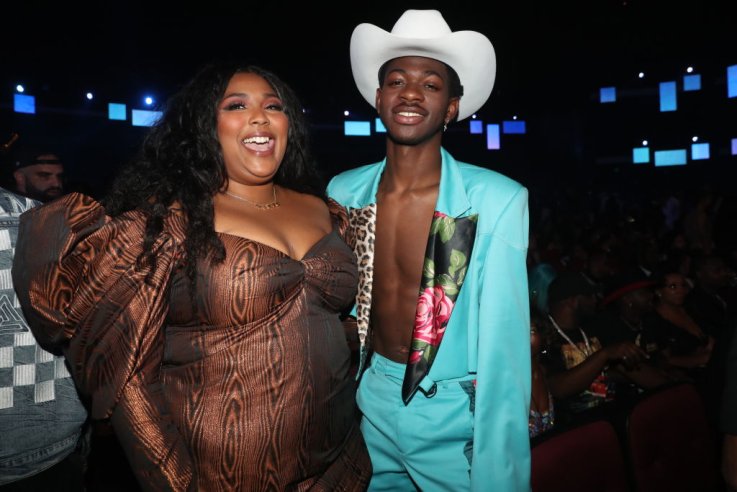 Lil Nas X, the artist behind the viral hit "Old Town Road," came out in his new single "C7osure." In doing so, Lil Was X joins a list of other queer hip hop artists changing the music industry.
"Some of y'all already know, some of y'all don't care, some of y'all not gone fwm no more. but before this month ends i want y'all to listen closely to c7osure," the rapper tweeted on Sunday, the final day of Pride month.
He also tweeted artwork for the single which shows a building lit up in rainbow colors, writing, "deadass thought I made it obvious," subtly indicating he's queer.
But Lil Nas X certainly isn't the only queer hip hop artist. There aren't many, but the list grows longer year after year, changing the landscape of the music industry. Here are some of the top queer hip hop artists you should also be listening to.
Lizzo
"When it comes to sexuality or gender, I personally don't ascribe to just one thing. I cannot sit here right now and tell you I'm just one thing," the "Juice" singer told Billboard. "That's why the colors for LGBTQ+ are a rainbow! Because there's a spectrum, and right now we try to keep it black and white. That's just not working for me."
Big Freedia
The New Orleans bounce music superstar has been out and proud their entire career. When asked about if they worried about their gender and sexuality hurting their career, Big Freedia told Huffington Post, "I don't really worry about that. I just took a chance on everything that I have been doing in my career. I didn't second-guess it, I live day to day and enjoy life so whatever the repercussions are, I guess I'll just have to deal with them."
Young M.A.
The Brooklyn rapper is one of the few openly lesbian rappers finding success in the male-dominated hip hop industry. "Life is too short. I need to just be myself, express myself," the rapper told The Fader. Her music videos have raked in over 300 million views on YouTube, and Remy Ma and Nicki Minaj have sampled her music. She's basically the definition of "one to watch."
ROES (fka Angel Haze)
ROES, formerly known as Angel Haze, has been open about her sexual identity since early in her career, releasing "Cleanin' Out My Closet" back in 2012. Identifying as pansexual, the artist told Fusion TV, "I see people for who they are…I don't base all of my relationships off of sex."
Mykki Blanco
The rapper and performance artist Mykki Blanco has been out their entire career.
Often credited as being a queer pioneer in rap, Blanco most recently opened up about being HIV positive. "I thought when I came out that was going to be the end," Blanco told the Chicago Tribune. "Mykki Blanco is fun. Talking about HIV is not fun. How could I be fun and have HIV?" Madonna recently included Blanco in her "Dark Ballet" music video, with Blanco playing the part of Joan of Arc.
Cakes da Killa
The Brooklyn based 28-year-old hip hop artist made waves with his debut album Hedonism in 2016. He doesn't shy away from being open in his music about his sexuality and sex life, which isn't uncommon for straight artists to do in hip hop music, but not necessarily for a gay artist. He told Britain's iNews that homophobia isn't just a thing in hip hop. "Sure, every genre of music has people who are homophobic in it… I think hip hop just has that perception because for so long the key players were extremely vocal with their opinions. It's not 1996 any more; now they'd just get cancelled."
Le1f
Before focusing on music, the 30-year-old rapper studied ballet. That dance background can be heard in his music. What's also front and center? His sexuality. "I see it in his eyes, he can't handle that/ Thinking I'm the prize in his Cracker Jacks/ I'm making him melt like candle wax," he sang on the single "Koi."
Syd
Syd, also known as Syd the Kid, is way more than a rapper, she's also a DJ and a soul singer. Besides her popular solo work, she's also part of the hip hop collective Odd Future and lead singer of the soul band The Internet. Oh, and she's also opened for Eminem. On why she decided to come out as a lesbian, she told LA Weekly, "I decided to do it because I wish I had someone like that while I was coming up."
Quay Dash
Quay Dash is fiercely open about her gender, telling DAZED, "I'm black, I'm trans, and I can actually rap. Plus, I'm pretty… When you have beauty, brains, and talent, that's some shit they can't take." She's been getting attention for her direct style and unique life experience, and she's not shy about her talent. "I know that I'm better than most of those rappers anyways," she told The Guardian. "As far as my music I just want everybody to hear my voice and let them know that I'm here, and I'm here to stay; I'm here to stay and slay."
Zebra Katz
Heavily influenced by queer ball culture, Zebra Katz has been a queer artist to watch ever since designer Rick Owens used Katz's song "Ima Read" during his show at Paris Fashion Week in 2012. Katz told The Guardian in 2013 that it's important to be out in hip hop, but it isn't easy. "Creating a strong, black, other, queer male is something that really needed to happen because you don't see that that often, especially not in hip-hop. But it's terrifying standing up as a queer man. People are getting attacked all over the world, but you have to use your sexuality as a tool, instead of having them use it against you."