John Feal, a prominent 9/11 first responder, called out two Republican senators by name on Thursday for not signing on to a bill that would renew compensation to victims of the 2001 terrorist attacks.
"Tillis and Burr, I'm coming tomorrow and if you guys aren't on the bill in North Carolina there's gonna be a problem," Feal said on CNN's New Day, raising the names of North Carolina's GOP Senators Richard Burr and Thom Tillis. "Let me tell you something, they have over 1,200 people in their state in the World Trade Center health program." Speaking to the camera, Feal told viewers in North Carolina to contact Burr and Tillis to tell them to "get on the bill."
"This is an insult to the men and women from North Carolina," the 9/11 first responder asserted. He then slammed the minority of members of the Senate and the House of Representatives who have not backed the legislation.
"How dare they not get on this bill because of political affiliation," he said. "Shame on them! They work for us."
The House of Representatives will vote on the legislation on Friday. According to Feal, 333 members of the House have signed on to the bill, meaning it is expected to pass by a significant majority. Feal also said that about 70 senators had signed on to the legislation, which would lead to it passing the upper house of Congress as well.
The James Zadroga 9/11 Health and Compensation Act first passed Congress back in 2010, despite some Republicans opposing the bill at the time due to it allocating $7 billion. Five years later, in 2015, the legislation was reapproved for the next 90 years, except for the Victims Compensation Fund. That was only funded for five years, which will be up at the end of next year. Feal and other 9/11 first responders have been campaigning for Congress to reauthorize that fund and end the five year time frames altogether.
The issue has received significant national attention, particularly after comedian and former The Daily Show host Jon Stewart gave testimony before Congress last month. Stewart said at the time that he was "sick and tired" of hearing the 2001 terrorist attacks referred to as a "New York issue."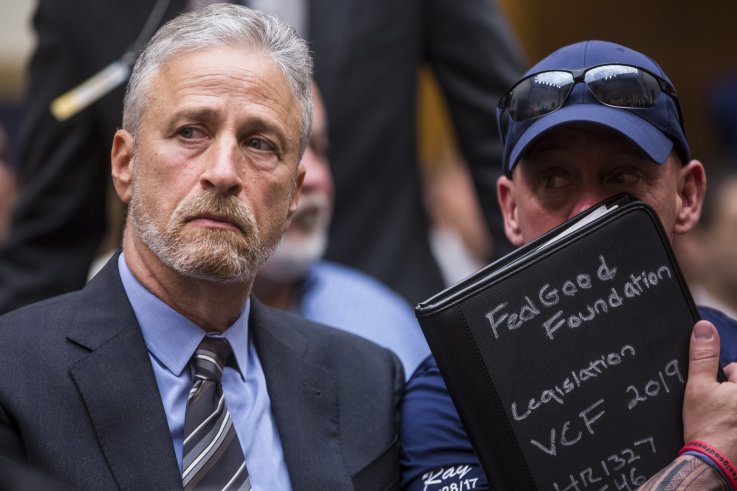 "Al-Qaeda didn't shout death to Tribeca. They attacked America and these men and women and their response to it is what brought our country back," he said. Stewart also criticized Congress, as relatively few members of the legislative body attended the hearing.
"As I sit here today, I can't help but think what an incredible metaphor this room is for the entire process that getting health care and benefits for 9/11 first responders has come to," he said. "Behind me, a filled room of 9/11 first responders and in front of me, a nearly empty Congress."
Feal has repeatedly criticized Republicans, and particularly those in the Senate, for putting up obstacles to the legislation. After meeting with Senate Majority Leader Mitch McConnell, Feal said the congressman from Kentucky has "different views on what humanity is."