Pigs made quite the mess on a highway in Missouri. Three lanes on the westbound Interstate 670 past U.S. Highway 71 in Kansas City were closed off after a tractor-trailer spilled an entire load of animal parts on the highway on Thursday.
The Missouri Department of Transportation (MDOT) confirmed to local media the spilling splattered across the highway was comprised of pig intestines.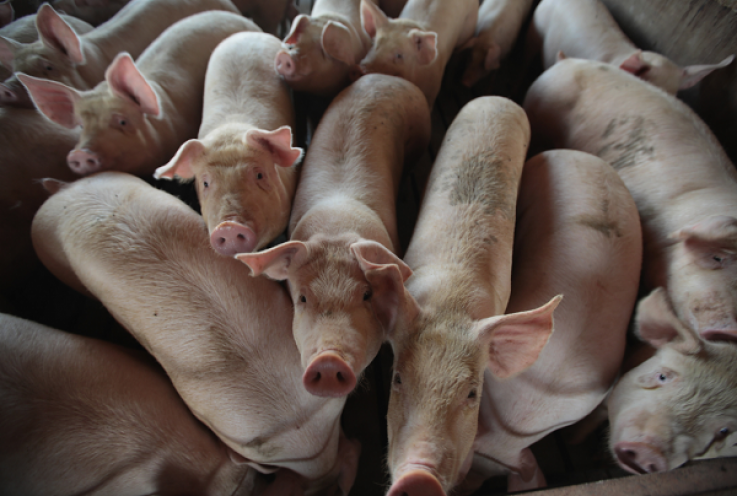 The spill caused quite the backup on the highway. MDOT shared images of the long line of stopped cars awaiting the highway's reopening. However, the building traffic was only one part of the problem—emergency crews had to figure out exactly how to clear the roads of the mess.
In a series of tweets, the department said police, emergency responders and firefighter crews were initially using a snowplow to clear the pork product from the highway. After an hour of shoveling, the team was forced to take greater measures to clear the road, resulting in a Bobcat being used to clean up the porcine mess.
Once the pig intestines were removed from the road, crews had to clean up the remaining residue using powdered soap and water. Although much of the hog content had been removed, at time of post the highway had still not reopened.
While the pig intestines certainly caused chaos on the highway, folks on Twitter were mostly concerned about how emergency teams were handling the smell. The pig intestines are the gastrointestinal tract in which the animal's food is digested later expels waste as feces, so it's safe to assume the aroma engulfing the highway was even more horrendous than the actual waste covering the road.
Hundreds of people commented on the social media site with wisecracks regarding the spills and efforts cleanup crews were going to take to clear the air of the smell after ridding the actual intestines from the highway.
The messy situation isn't the first major disruption to take place on a U.S. highway. A tanker carrying 3,500 gallons of hot, liquid chocolate flipped over on a highway in Arizona causing a river of chocolate to flow down Interstate 40. It was unclear what caused the tank to flip over at the time of the accident.
The chocolate contents were being stored in the tanker at temperatures of 120 degrees.
Although the spill caused some traffic delays at the time, emergency crews managed to clean up the delicious mess within a few hours.