90 Day Fiancé star Ashley Martson warned viewers before Sunday's episode premiered on TLC. According to the reality star, she was given medicine for eight days that affected her thought process.
"Disclaimer for tomorrow's episode—I was admitted and administered IV Dilaudid for 8 days straight. It clearly affected the frontal lobe of my brain," the 32-year-old Pennsylvania resident wrote on Instagram Saturday. "The part of the brain that you think and make choices with…that's all! Have a great rest of your weekend." She added a GIF that says, "dumb juice."
Martson is likely referring to the time she was hospitalized at the beginning of the year for complications related to Lupus. Even though Ashley had filed for divorce at the time of her illness, estranged husband Jay Smith showed up to be at her side.
It's not entirely clear what specific event Ashley warned fans about, though it could be about the incident where she threw a fire extinguisher through Jay's window.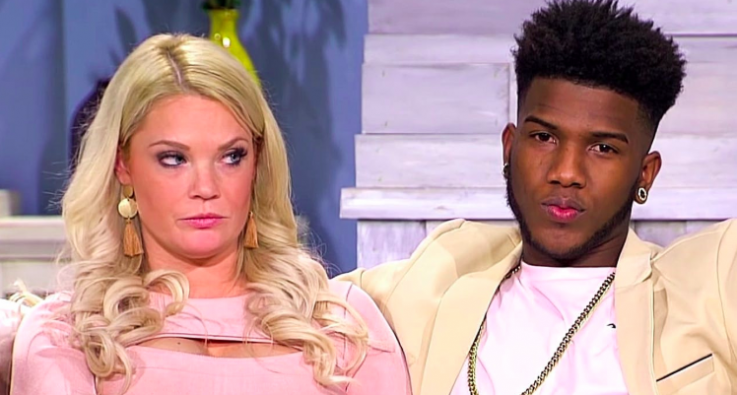 On last week's episode, viewers saw Ashley file for divorce after she caught him cheating. She knew their relationship was "toxic" but she stayed with him because she didn't want him to be deported back to his native Jamaica.
Smith turned himself in to police earlier this month after he violated a Protection Fromm Abuse order. He was then transferred to a detention center where he is currently being held by ICE.
Our relationship has been very toxic from the beginning, and I just never did anything about it, because I knew if I contacted the police that Jay would be deported," Ashley told Celebuzz in an exclusive interview on July 3. "There was a lot of abuse going on in our relationship."
"This is a very sad situation overall…I'm not popping champagne bottles celebrating today," she continued. "It's hard to sit here and think about how he's sitting in a jail cell right now, but I also have to remember everything he put me through the past year… I still have a great deal of love for him so it isn't easy… Picturing my husband in jail is the worst feeling in the world."
A GoFundMe account was started by one of Jay's friends so he could afford a proper attorney. The fundraiser has nearly reached its $5,000 goal. "It's a relief to know people are starting to see the truth of the matter. Thank you so much!" Kayla O'Brien, the organizer of the GoFundMe, wrote on July 6. "Jay will be able to file to come before a judge within a reasonable amount of time with the help of an attorney, rather than being lost in the system and waiting in jail for x amount of months before he can even come before the judge. Thank you thank you!"