A rogue alligator making itself at home in Chicago's Humboldt Park has finally been caught. "Chance the Snapper" was captured in the park's lagoon today at about 1:30pm.
The 5′, 3″ gator had been living there for the last week, becoming the star of a viral news story.
Alligator expert Frank Robb spotted Chance hiding under lily pads on the northwest end of the lagoon. With his fishing rod and 200-pound strength fishing line, Robb was able to hook the gator by the base of its tail and reel him in.
"Everybody's got different blessings. This is my blessing. This is what I've spent every day of my life doing for the past 24 years," said Robb.
Chance was unharmed in the encounter: The hook set into the alligator so loosely that it fell out when Robb grabbed him.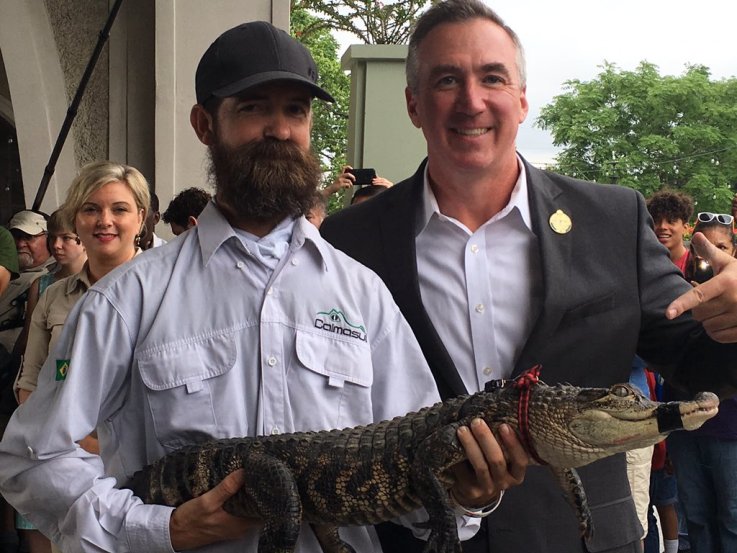 Robb, of Crocodilian Specialist Services in Cocoa, Florida, appeared at a press conference Tuesday afternoon with Kelley Gandurski, executive director of Chicago Animal Care and Control.
Chance was there too, dressed up in a red plaid bowtie.
A large section of Humboldt Park had been closed off since Sunday night—not out of safety, but to calm Chance down. "We needed quiet," Robb said. "We needed the place shut down for the animal so he could relax."
It took Robb 36 hours–without sleep—to track and finally capture the alligator. Chance fought back a little bit, but was also tired. "People ask how you catch an alligator," Robb said. "'Just barely' is the answer,"
The alligator is 5 feet, 3 inches long and weighs about 30 pounds. Robb noted that Chance was healthy, and Gandurski concurred.
Calling Chance a "beautiful, beautiful alligator," Gandurski praised Chicagoans, who embraced the reptile as one of their own. "This is the city of big shoulders, but it's also the city of big hearts, and especially big hearts for animals."
Robb wasn't the first person to try catching Chance: After the first sighting on July 9, a local expert known as Alligator Bob tried his hand at capturing the gator. Sadly, Bob's efforts were fruitless—he warned it could take a week or even longer to capture Chance, as he may not have been hungry and was adjusting to his new surroundings.
Alligator Bob's failure may have been due to the large crowds that gathered to see a glimpse of Chance. The alligator was a local celebrity with a number of parody Twitter accounts, including @ChanceDaSnapper, @ChanceDeSnapper and @ParkGator.
City officials believe that Chance was originally a pet that was was released in the lagoon when his owner could no longer care for him. Keeping alligators is illegal in Illinois without a special permit, usually only granted if the owner can prove they're using the alligator for educational programs.
While Chance's new home has yet to be chosen, he'll likely be moved to a wildlife sanctuary or zoo. "No harm will come to this alligator," said Gandurski.
Now that Humboldt Park Lagoon is alligator-free, the entire park has been reopened for visitors.