Over a dozen great white sharks have been spotted swimming at the surface of the ocean off the coast of California. The creatures have been spotted in Monterey Bay, to the south of San Francisco and San Jose, between Seacliff State Beach and Capitola, KPIX 5 reported.
Some measure up to 15 feet in length, according to specialist helicopter pilot Chris Gularte who took KPIX 5 reporter Betty Yu into to air to see the sharks. She reported that she saw over a dozen sharks lurking below the surface from 800 feet in the air. Gularte said he has been monitoring the waters for around five years and believes the animals are attracted by the "warm, calm shallow water," he told KPIX.
According to Monterey Bay Aquarium, the area is the seasonal home of adult white sharks. The animals spend months in western waters, sometimes as far out as Hawaii, and head to California in the late summer and early fall to feed on juvenile elephant seals. When the water is warmer than usual, younger white sharks are seen, too.
Swami Nathan who lives on Sunset Beach told KPIX 5: "People should be careful, a lot of visitors come here and I don't think they take the potential dangers in the water seriously."
The sightings come days after a fisherman reeled in a great white shark in nearby San Francisco Bay. Joey Gamez, who runs Golden State Sportfishing, shared an expletive-ridden video of his catch on Facebook.
Gamez was hunting for sevengill sharks near Alcatraz Island with a group of customers on Saturday, and put out a salmon carcass as bait, the Los Angeles Times reported.
"Today will go down in history for Golden State Sportfishing as one of the best days ever!" Gamez wrote on Facebook. He said the shark "was safely released Immediately."
In the past week or so, sharks have also been spotted at nearby Half Moon Bay. Officials have warned beachgoers to stay safe in the water.
On Friday 12 July, San Mateo County Sheriff's Office tweeted: "Multiple pilots flying over the San Mateo County coast have spotted great white sharks in the water today. If visiting the area please use caution."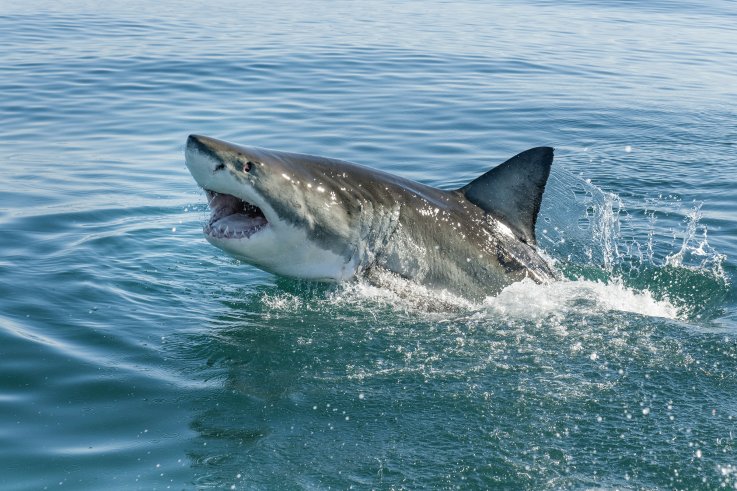 However, Marine biologist Giancarlo Thomae told KPIX: "I would not worry about seeing these sharks," Thomae said.
"In fact, they are not in feeding mode. What they are doing is they are finding the warmest water that they can just to warm up."
Michael Heithaus, professor in the Department of Biological Sciences at Florida International University recently told Newsweek: "One of the biggest misconceptions is that they are mindless killing machines that are eating all the time. Sharks spend the vast majority of their time not eating and are not attacking everything that they see."